WHY CHOOSE US AS YOUR HIGH-PRESSURE WASHING SERVICE PROVIDER?
Real View Services offers a professional washing services, as well as low-pressure steam cleaning for more delicate, older, or listed buildings. We have seen the damage resulting from inexperienced companies using high-pressure jet washing equipment on the wrong surfaces.
All of our Real View Services washing operatives undergo intensive training. Our jet washing training teaches them about the various types of surfaces they will encounter. They will also be able to identify the various types of "dirt" they need to remove and how best approach to take. Whilst brute force sometimes works all our machines are fully adjustable, so they can be regulated from a fine mist to a full pressure. Coupled with these machines we have a range of eco-friendly biodegradable chemicals that when correctly applied can gently assist in the cleaning process.
Over the last 10 years, we have worked with many clients including home owners, property management companies, real estate agencies, factories and manufacturing plants. In those years, we have also had overwhelming repeat business and numerous recommendations owing to the quality of our high-pressure water cleaning service.
At ultimate Site Services, our pressure cleaning services include and extend to the following
COMMERCIAL AND INDUSTRIAL
House washing

Driveway and path cleaning

Pool area cleaning

Roof and gutter washing

Fence washing

Patio cleaning

Fence cleaning
Building cleaning

Carpark washing

Fence cleaning

Paths and driveway cleaning

Plant machinery and equipment cleaning

Roof and gutter cleaning

Cleaning of any brick and concrete surface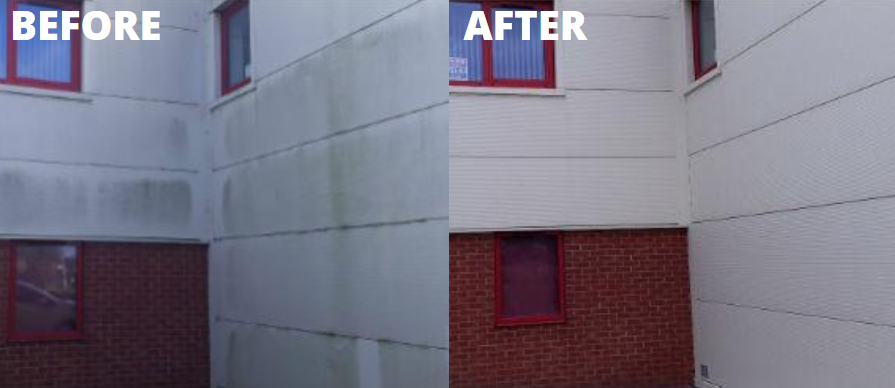 High pressure washing is required for some stiff surfaces such as the brick or concrete surfaces. Many times people use this washing technique on the old buildings which are weak and this can cause damage to the property. It is always recommended to first check, whether the high pressure washing is suitable for your surface or not, and if yes, then this is the best method to deeply clean your surface even if it is uneven.
High pressure washing is not just used at the residential properties but also in the Industrial where heavy machines are used. There are many Manufacturing plants and the factories which use these high pressure washing techniques to clean their surfaces. It has been observed that this kind of washing removes all the dirt from even the most uneven surface.
We at Real View Service always go for the best approach for your property. We are known for taking the wise decisions and we only start working on your project after examining the need of your surface. In case your property is old, we always prefer low pressure steam cleaning to prevent all the damage. The pressure that we use while cleaning can be adjusted and used according to the requirement. We are popular as the most trusted High Pressure Washing Company in Dubai, check out our services now.